Fun Facts About Baton Rouge: Baton Rouge, LA Facts and Trivia
Posted by Brittney Pino on Thursday, October 22, 2020 at 3:31 PM
By Brittney Pino / October 22, 2020
Comment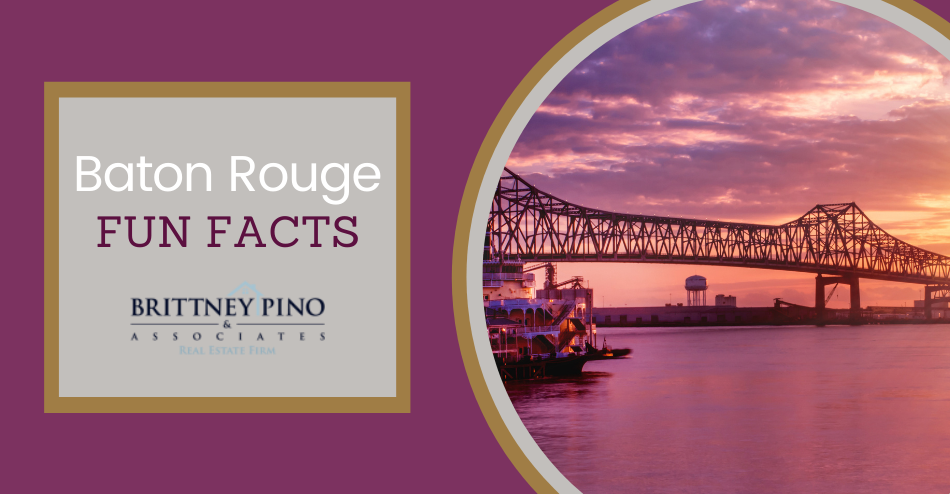 Baton Rouge is the capital of Louisiana, located on the bank of the Mississippi. Baton Rouge is the 16th most populous state capital and the 100th most populous city in the United States. It's steeped with history and culture that makes it fascinating to visit and a great place to live, with a number of high-end neighborhoods to make your home. Visitors and residents alike will enjoy knowing these interesting facts about Baton Rouge, the second-largest metropolitan city in Louisiana, if they're looking to buy a new home here.
Baton Rouge Has the Tallest State Capitol Building in the Country
Baton Rouge is home to the Louisiana State Capitol building. It was built in the 1930s, stands 450 feet tall, and has 34 floors. There aren't many skyscraper capitols in the country, and this building is one of them. Finally, it's only one of nine capitol buildings that do not have a dome. With 249,000 square feet and surrounded by 27 acres of landscaped grounds, the Louisiana State Capitol is truly a work of art.
"Baton Rouge" Means "Red Baton" In French
Baton Rouge was originally a city founded by French settlers. Before it was a city, Baton Rouge was a military post, founded in 1719. The post was named "Baton Rouge" for a red cypress tree stripped of its bark. The tree was a marker that showed the boundary between Houma and Bayou Goula hunting grounds. The tree was named "Red Stick," thus, "Baton Rouge."
Baton Rouge's LSU Football Team Mascot Is a Live Tiger
Louisiana State University, located in Baton Rouge, has kept a live tiger as its mascot since the 1930s. Named Mike, the tiger is neither purchased by LSU nor bred for captivity. LSU only takes in tigers in need of a sanctuary home. The current Mike came to LSU in September 2017.
Mike can be seen in an enclosure attached to the LSU Football Stadium, known as Death Valley. He can be seen lounging on his heated rock by the pool or roaming among the fronds of jungle plants in his fully renovated, 15,000-square-foot home. His sprawling enclosure can make anyone long for a luxury home of their own.
Baton Rouge is Calling You!
Baton Rouge is a city full of community spirit, vibrant nightlife, rich history, and interesting tourist destinations. Whether you're coming to Baton Rouge for a visit or moving to Baton Rouge permanently, you'll love spending time in this wonderful Louisiana City. If it's a permanent move you're after, contact Brittney Pino & Associates with Baton Rouge Home Pros at (225) 444-5664 to talk to a local agent and discover your Baton Rouge dream home.