Things to Do in Baton Rouge: Baton Rouge, LA Places to Go and Things to Do
Posted by Brittney Pino on Monday, December 7, 2020 at 3:50 PM
By Brittney Pino / December 7, 2020
Comment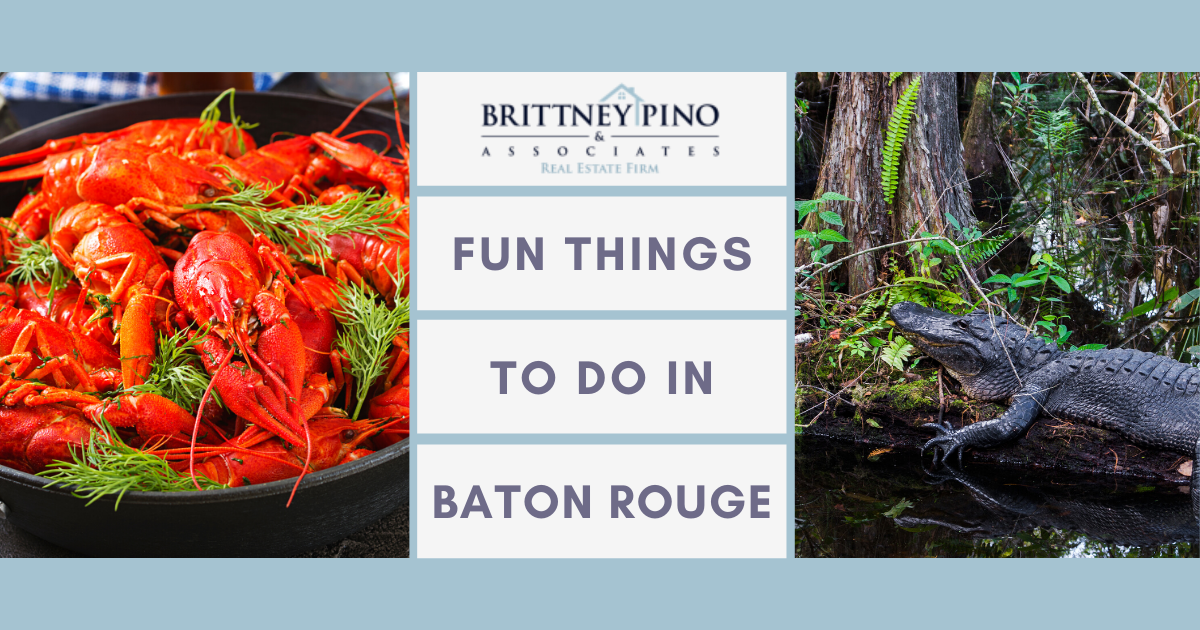 Louisiana's state capital, Baton Rouge, is known for many things. There's its location on the banks of the Mississippi River, its unique historic architecture, and its diverse global food and music scenes. Of course, Baton Rouge is also the home of the Louisiana State University Tigers.
In this vibrant and dynamic city at the heart of the South, there's always somewhere to go and something to do or see. Diehard sports fans, music lovers, serious foodies, outdoor enthusiasts, and history buffs have plenty to experience in the Capital City. Here's a list of top picks for things to do in Baton Rouge.
Baton Rouge Outdoor Adventures
Thanks to the warm and relatively mild year-round weather in Baton Rouge, it's easy to get outside and recreate in every season. The city offers numerous activities for every interest and experience level, from playing in a neighborhood park, running and hiking, or playing golf near a Baton Rouge golf course home.
Parks
Parks in Baton Rouge
Perkins Road Community Park
Forest Community Park
Bluebonnet Park Nature Center
City-Brooks Community Park
Independence Community Park
Baton Rouge has over 180 parks and gardens that cover about 6,000 acres across the city. One of the most popular – and uniquely Baton Rouge – is the Bluebonnet Swamp Nature Center. The 100-plus-acre facility features an educational center and large swamp with boardwalks and observation decks. Otters, armadillos, turtles, and hundreds of bird species reside here, so there's always lots to see.
There are also several off-leash dog parks in Baton Rouge. All of them provide water and waste pick-up stations and are open daily from dawn to dusk. Most of the dog parks also have separate play areas for small and large dogs.
Water Recreation
Water Activities in Baton Rouge
Swimming
Fishing
Kayaking
Canoeing
Paddleboarding
Baton Rouge's location directly on the banks of the Mississippi River means the natural scenery is beautiful and diverse. It also means that summers in Baton Rouge can be hot and humid. Fortunately, there are many ways to find relief by getting out on (or in!) the water.
Residents and visitors can indulge their adventurous side at Canoe & Trail Adventures with a day of kayaking, canoeing, or paddleboarding the Bogue Falaya River, or head to the curiously u-shaped False River just northwest of Baton Rouge for fishing and duck hunting. If you're just looking to make a (literal) splash, check out the Blue Bayou Waterpark.
Hiking & Biking Trails
Trails in Baton Rouge
Ward's Creek Bike Path
Gus Kinchen Trail
Water Heritage Trail
Downtown Greenway
Hiking may not immediately come to mind when one thinks of Baton Rouge. After all, the city sits just barely above sea level. However, Baton Rouge's diverse landscapes provide the perfect backdrop for enjoying one of the many trails, whether on foot or bicycle.
AllTrails is an excellent resource to find trails in any area, and results can be filtered by difficulty, length, and more. Learning Tree Trail is a leisurely, half-mile paved trail that's dog-friendly and fully shaded. At the other end of the spectrum is Comite Park Trail, a primitive path geared toward more experienced hikers and popular with cyclists.
No matter how you prefer to experience The Great Outdoors, Baton Rouge has an abundance of opportunities. Many of them are located right in the heart of the city! People can enjoy the Red Stick's many parks, nature preserves, rivers, lakes, and trails, but should remember to recreate responsibly.
Baton Rouge Shopping
Shopping Centers in Baton Rouge
Towne Center at Cedar Lodge
Mall of Louisiana
Acadian Perkins Plaza
Perkins Rowe
For those who consider themselves as more indoorsy than outdoorsy, Baton Rouge has plenty for them to do as well. The city is known for its eclectic shopping – and thankfully, there's lots of it.
Mall of Louisiana: Living up to its name, the Mall of Louisiana is the state's biggest shopping mall. There are over 160 retail stores, dozens of restaurants ranging from fast-casual to sit-down, and the AMC Mall of Louisiana, with over 15 movie theaters.
Towne Center at Cedar Lodge - This upscale open-air shopping center caters to the Baton Rouge lifestyle, with a collection of primarily fashion boutiques and home furnishings stores near the downtown condos of Baton Rouge. There are several spas, restaurants, fitness centers, and jewelers interspersed as well. Towne Center is also a beautiful place to walk around, with Old World architecture, fountains, and flower-lined walking paths.
Baton Rouge Restaurants
Restaurants in Baton Rouge
Mansurs on the Boulevard
Louisiana Lagniappe Restaurant
Solera
Roux 61 Seafood & Grill
Foodies, rejoice. Baton Rouge is a hub of incredible restaurants. Naturally, Creole, Cajun, and classic Southern flavors have a strong influence on Baton Rouge's culinary scene, but there's far more to it than that. No matter what type of food is their favorite, people are sure to find several go-to's here.
Their first stop should be Louie's Café, a local institution. Located just off the LSU campus, the crowd is always vibrant. Parrain's Seafood Restaurant is in the Mid-City district is where the locals go for seafood. It's all locally sourced, with most of the fish coming from the Gulf of Mexico, and chef's specials change daily. For elevated Creole cuisine, head to Eliza. All meat and produce is delivered fresh daily and the chocolate pecan pie is a local legend. Nab a patio seat if you can, and check out Sunday brunch.
Arts & Culture in Baton Rouge
Baton Rouge's rich and storied history has resulted in an equally rich culture and arts scene. Music, festivals, art, and tradition are deeply rooted in the city's DNA, and all are abundantly reflected in the many vibrant and eclectic galleries, museums, art installations, and performing arts theaters.
Museums
Museums in Baton Rouge
Louisiana's Old State Capitol
Knock Knock Children's Museum
LSU Museum of Natural Science
In a city as diverse as Baton Rouge, there are museums catering to every imaginable interest. With something for everyone, the Louisiana Art & Science Museum is a must-see. In addition to galleries dedicated to both art and science, the LASM also has a planetarium onsite. If children are in tow, the museum has lots of hands-on, interactive exhibits and workshops for them as well. Those interested in history can check out the Louisiana Museum of Natural History on LSU's beautiful campus. It houses several other museums, including the LSU Museum of Natural Science and the Textile and Costume Museum.
Art Galleries
Art Galleries in Baton Rouge
Baton Rouge Gallery
LSU Museum of Art
KAWD Art Gallery
There are frequently art walks, craft markets, and other "pop-up" art events in Baton Rouge, but there are also a number of fantastic art galleries and museums. Casual and serious art lovers alike will appreciate the multi-media Baton Rouge Gallery Center for Contemporary Art, one of the oldest artist co-ops in the U.S. It's located in the historic and scenic City Park and features monthly rotating exhibitions, as well as special events like Movies on the Lawn. There's also the LSU Museum of Art in vibrant downtown Baton Rouge, which holds one of the South's largest university-owned collections of art.
Dance & Theater
Performing Arts in Baton Rouge
Manship Theatre
Theatre Baton Rouge
River Center Performing Arts Theater
Upstage Theatre Company
The performing arts, including music, dance, and live theater, have always played a significant role in Baton Rouge's culture. To properly immerse into it, people should consider taking in a show at one of the city's many spectacular venues. The non-profit Manship Theatre at the ultra-modern Shaw Center for the Arts frequently shows limited-run and independent films, plus it features live music acts. Theatre Baton Rouge has been putting on live productions for all ages since 1946, and the Swine Palace is the state's independent theatre company situated on LSU's campus and working in partnership with the Louisiana State University Department of Theatre.
Whether someone prefers to enjoy the performing arts as a spectator, or they would rather be in the spotlight, they'll find Baton Rouge to be an excellent fit. On any given day, there are numerous performances across the city, ranging from interpretive dance to children's musicals.
Baton Rouge Nightlife
Bars, Clubs, and Music in Baton Rouge
The Bulldog
Hayride Scandal
Olive or Twist
Mid City Ballroom
Baton Rouge has a naturally festive, celebratory vibe (especially when the Tigers win a home game!). There's always a fun special event going on, live music playing somewhere, specialty cocktails being mixed, and strangers becoming fast friends. Whatever someone's idea is of the perfect night out, whether it's a low-key dinner at a neighborhood hidden gem, live music on a cozy patio, or a night filled with bar-hopping downtown and dancing into the early morning hours, they'll find it in spades in Louisiana's Capital City.
Downtown's Third Street is one of Baton Rouge's main entertainment and dining hubs, where dozens of bars, restaurants, nightclubs, and live music venues line the street. It's a must for first-time visitors and locals alike, and it's a favorite destination for celebrations. Mid City is another trendy nightlife hot spot, a neighborhood situated just off downtown between Florida Boulevard and Government Street. Here, people can stroll the streets, eating, drinking, and socializing the night away. Have a local beer on Mid City Beer Garden's open-air roof and unwind after a long and exciting day.
Another local entertainment favorite is The Bulldog Baton Rouge, a sports bar that takes Southern hospitality to a new level. It's widely considered one of the best places to watch a game, has a legendary beer tap fountain, and the patio is dog-friendly.
Having Fun in Baton Rouge
For those who enjoy an active lifestyle, moving to Baton Rouge should be at the top of their to-do list. It's absolutely beautiful, steeped in rich history and tradition, and there's never a shortage of things to see and do. To learn more fun facts about Louisiana's vibrant Capital City, explore Baton Rouge today. If you decide to stay, contact Brittney Pino & Associates with Baton Rouge Home Pros at (225) 444-5664 to talk to an agent and get started finding your perfect new Baton Rouge home.