Best Neighborhoods in Baton Rouge: Baton Rouge, LA Community Guide
Posted by Brittney Pino on Friday, April 23, 2021 at 9:05 AM
By Brittney Pino / April 23, 2021
Comment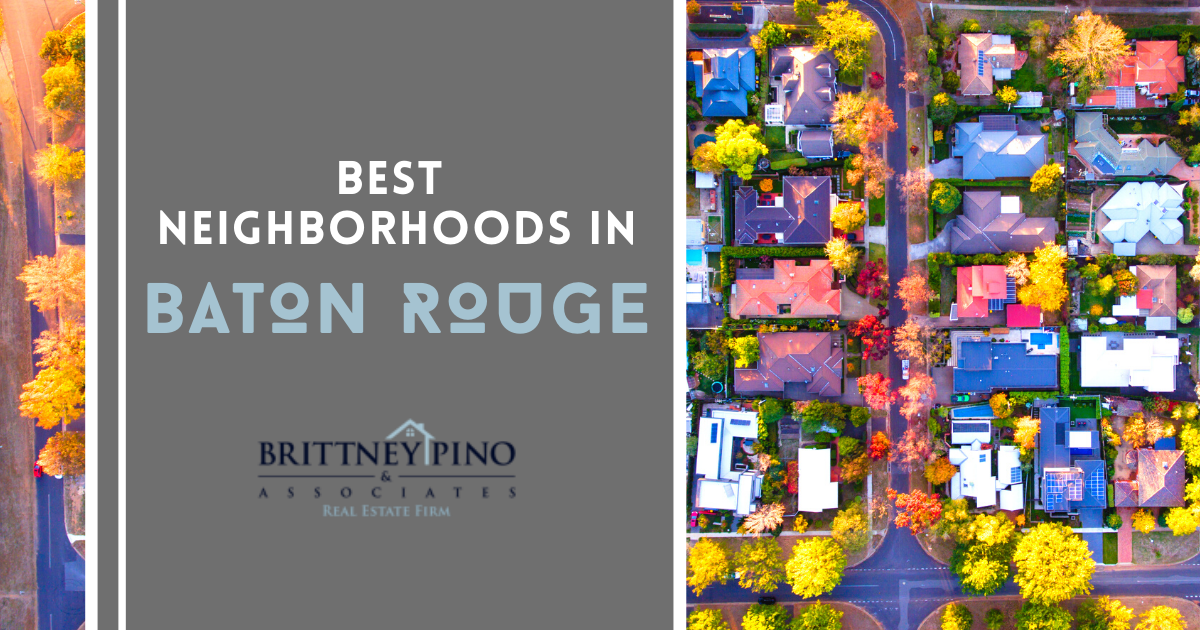 The City of Baton Rouge is the capital of Louisiana. It trails only New Orleans among the state's largest cities, with about 202,236 residents. Baton Rouge also serves as the parish seat for East Baton Rouge Parish and is known as the home of Louisiana State University.
Located on the eastern bank of the Mississippi River, the city's port is the 10th largest in the nation. Its neighborhoods are an eclectic mix of old and new. Residents can choose to live in quiet, historic districts or among all the hustle and bustle this urban center has to muster. Here's a list of some of the best neighborhoods in Baton Rouge.
Kleinert Terrace
Kleinert Terrace Amenities
Historic homes
Golf nearby
Parks nearby
Restaurants nearby
Shopping nearby
Located in the southcentral part of Baton Rouge, about 2.5 miles from the city's core, the Kleinert Terrace historic district is listed on the National Register of Historic Places. The neighborhood lies south of Roseland Terrace and adjacent to Drehr Place. Myrtle Avenue borders it to the north, Broussard Street to the south, Perkins Road to the west, and Arlington Street to the east.
Because homes were sometimes originally constructed on multiple lots, residences feature a variety of sizes. Most of the neighborhood's landmark homes are along Kleinert and Terrace avenues. Colonial Revival architectural style dominates, accounting for more than a quarter of the neighborhood's 46 homes. These range from grand two-story Georgian and Federal styles to Cape Cod cottages.
In addition to the neighborhood's historic homes, residents enjoy Kleinert Terrace's mature trees, some of which form a tree canopy over streets.
Kleinert Terrace Hotspots
Country Club of Louisiana
Country Club of Louisiana Amenities
Golf
Clubhouse
Parks
Playgrounds
Athletic fields
Walking trails
Tennis courts
The Country Club of Louisiana is a Baton Rouge gated community found in south Baton Rouge, along Highland Road, about a quarter-mile from Interstate Highway 10. It was established in 1985 and has some of the city's grandest and most luxurious homes.
The community consists of about 685 residences spread across 234 acres. With homes ranging from 3,500 to 11,000 square feet, most feature four to six bedrooms and vary in architectural style.
The Country Club offers a wide array of amenities, including the 18-hole Jack Nicklaus Golf Club, an Olympic-size pool, basketball and tennis courts, a fitness center, a baseball diamond, an open-air pavilion, a community garden, a playground, and a spray park.
In addition to The Country Club's amenities and easy highway access, residents like the area because of its luxury homes, spacious lots, and mature trees.
Country Club of Louisiana Hotspots
Country Club of Louisiana Shopping
Country Club of Louisiana Nightlife
Country Club of Louisiana Cafés
Country Club of Louisiana Restaurants
Adrian's Restaurant & Bar
Las Palmas Mexican Restaurant
Bluebonnet Terrace
Bluebonnet Terrace Amenities
Park
Lakes
Highway access
Pond
Mature trees
Restaurants nearby
Shopping nearby
Bluebonnet Terrace is a neighborhood located in South Baton Rouge. E. Groner Avenue borders it to the northeast, Glen Cove Drive to the northwest, Glen Ridge Avenue to the southwest, and Willow Glen Drive to the southeast. The neighborhood consists of 152 residences.
The neighborhood is also bordered by Blue Cross and Blue Shield of Louisiana, which maintains the adjacent wooded area. Bluebonnet Terrace features a park, pond, and tree-lined streets. It is also near Jefferson Terrace Park. Several restaurants and retail outlets, including the Mall of Louisiana, are near the neighborhood. Residents can also enjoy ready access to Interstate Highway 10.
Bluebonnet Terrace Hotspots
Adelia at Old Goodwood
Adelia at Old Goodwood Amenities
Parks nearby
Shopping nearby
Restaurants nearby
New construction homes
Adelia at Old Goodwood is a new Baton Rouge gated community, developed with the restored Goodwood Plantation and stand of mature oaks at its center. The neighborhood is developing just west of Lobdell Avenue between Government Street and Goodwood Avenue in midtown Baton Rouge.
The development will have 48 sprawling estates built across the neighborhood's 17 acres of land when complete. Lot sizes average about 10,835 square feet.
The longer-term goal will be to convert the Goodwood Plantation into a club for the neighborhood's residents. Homes within the community will all be custom-built and meet the developer's vision for replicating the region's historic architecture.
Residents are within a five-minute walk to Independence Community Park and Botanic Gardens. The community is also within a mile of shopping and restaurants.
Adelia at Old Goodwood Hotspots
Audubon Square
Audubon Square Amenities
Park
Athletic fields nearby
Playground nearby
Restaurants nearby
Audubon Square is a new Baton Rouge subdivision featuring 80 traditional-style, custom-built homes. The development is on the north side of Tiger Bend Road, just east of Antioch Road.
Among the neighborhood's unique characteristics are alleys to conceal garages and utility boxes, raised-front elevations on each home, attention to detail in landscaping, uniquely styled street lights and signage, and neighborhood covenants enabling individual style but enhancing the overall look of the neighborhood. The homes are traditional Southern-style with modern influences.
The neighborhood boasts a park, while athletic fields and playgrounds are easily accessible at nearby Antioch Park.
Lexington Estates
Lexington Estates Amenities
Clubhouse
Swimming pool
Walking/cycling trails
Lakes
Golf nearby
Lexington Estates is one of Baton Rouge's new upscale neighborhoods. It is located off Nicholson Drive, just south of Bluebonnet Boulevard. The entrance features a guardhouse, water features, and fountains.
Homes typically range from three to five bedrooms with 2,300 to 4,000 square feet of living space. The neighborhood's homes are known for their outdoor kitchens, indoor brick accents, and gourmet kitchens. The community remains under development, with lots, move-in ready homes, and newly constructed custom homes available.
Featuring lakes and green space, Lexington Estates is close to the L'Auberge Casino and a major golf course. Residents enjoy easy access to the university and downtown.
Lexington Estates Hotspots
Lake At White Oak
Lake At White Oak Amenities
Lakes
Restaurants nearby
Park nearby
River
Shopping nearby
Lake at White Oak is a neighborhood in Southeast Baton Rouge. It borders the Amite River at the boundary between East Baton Rouge and Livingston parishes, placing it on the outer rim of Baton Rouge. While this sets it apart from restaurants, retail, and other establishments, these are still easily accessible, and most are less than a two-mile drive away. The neighborhood features over 500 homes, primarily one-story, with four bedrooms the most common.
Lake at White Oak aims to provide a park-like setting for residents. The neighborhood formed Lake at White Oak Homeowners Association and Lake at White Oak Architectural Control Committee in 1985.
Lake At White Oak Hotspots
Lake At White Oak Shopping
Lake At White Oak Cafés
Lake At White Oak Restaurants
Find Your Home in Baton Rouge
Baton Rouge is a large city, with its greater metro area having a total population of about 834,159 people. The city is known for its mix of Creole and Cajun cultures, reflected in many of its eateries.
The city features a revitalized downtown, 180-plus parks, a host of museums, art galleries, and access to the Mississippi River Levee Path. Baton Rouge is a college town as well, home not only to Louisiana State University but also to Southern University and Louisiana State Franciscan Missionaries of Our Lady University.
The city is also home to a wealth of historic neighborhoods, many featuring homes dating back to the early 19th century. In addition to its historic districts, Baton Rouge features new areas with custom-built homes. Many neighborhoods, old and young, offer a whole host of amenities, including walking/biking trails, parks, and retail and restaurants nearby.
Dreaming of moving to Baton Rouge? If you're considering one of these excellent Baton Rouge neighborhoods, contact Brittney Pino & Associates with Baton Rouge Home Pros at (225) 571-6769 to get in touch and discover the perfect neighborhood for you.