Best Outdoor Activities in Baton Rouge
Posted by Brittney Pino on Thursday, April 8, 2021 at 1:14 PM
By Brittney Pino / April 8, 2021
Comment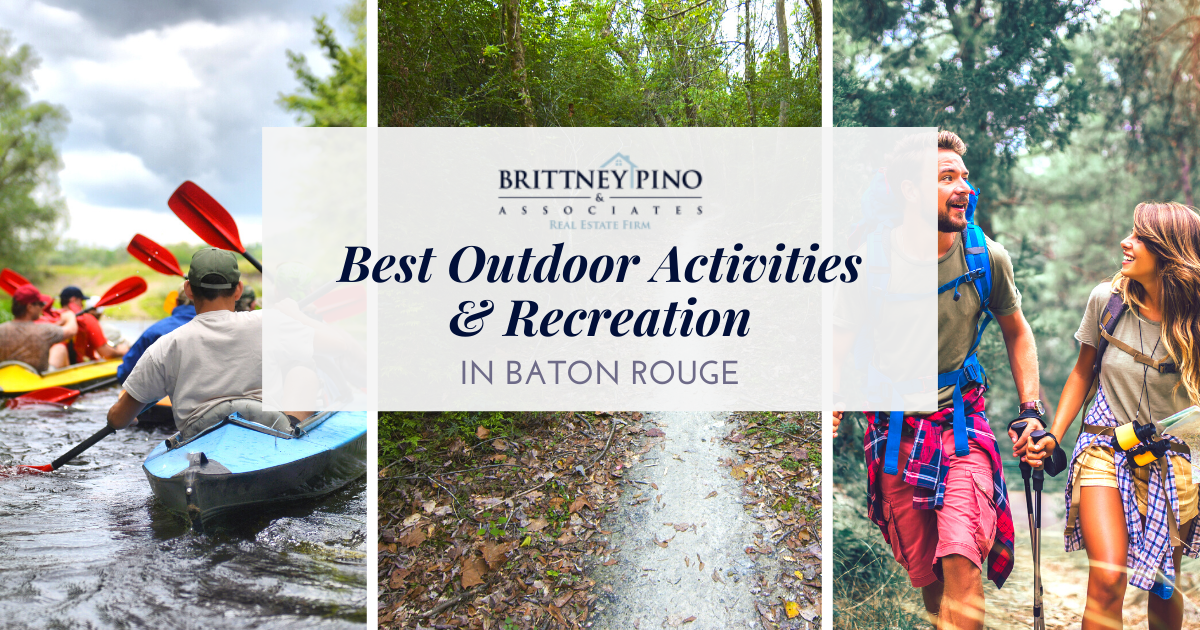 As Louisiana's capital city, Baton Rouge is home to the famous Louisiana State University. Situated alongside the Mississippi River, Baton Rouge isn't short on outdoor recreation or things to do. People can hit the river or nearby swamps, hike local trails, or relax in the lovely parks—the possibilities abound. However, some outdoor activities in Baton Rouge are more popular with visitors and locals than others. Here are the top options to consider when nature beckons for outdoor fun in Baton Rouge.
Water Recreation in Baton Rouge
Baton Rouge Water Recreation Amenities
Mississippi River
Blue Bayou Waterpark
Tickfaw State Park
Rocky Bottom Tubing and Canoeing
Tiki Tubing
There is an abundance of places to enjoy Baton Rouge's water beyond one's own swimming pool, both in the wild and in more controlled environments. Two favorites include excursions on the mighty Mississippi River and outings to the Blue Bayou Waterpark.
The Mississippi River has much to offer outdoor enthusiasts who enjoy water activities. Kayaking is one of the more popular sports, as the vessels are relatively easy to control and allow for greater exploration of the riverbanks. Visitors can bring a kayak and drop it in at Tickfaw State Park or rent one from the pros at Bayou Paddlesports.
The BREC has many canoe trails, launch sites, rentals, and tours, with instruction available at Rocky Bottom Tubing and Canoeing. Another favorite outing is tubing on the river. Visitors can bring tubes or pick them up at Tiki Tubing and launch at Blue Bayou or Dixie Landing.
Blue Bayou Waterpark has everything one expects in such a place and much more. Beyond concessions and conveniences such as free tubes and locker rentals, the rides are beyond belief with something for everyone. Thrills awaiting visitors include:
Water coasters
Tube chutes
Uphill rides
Multiple slides
Spiraling coasters
Splash pads
People should prepare to spend the entire day here—this park is massive!
Baton Rouge Hiking & Biking Trails
Baton Rouge Hiking & Biking Amenities
Black Swamp Trail
Hardwood Forest Loop Trail
Burden Botanical Gardens
There are countless trails in Baton Rouge, much to the delight of hikers and bikers. Trails range from easy to challenging and wind through Baton Rouge neighborhoods, but Black Swamp Trail and Hardwood Forest Loop Trail are excellent choices for all skill levels.
Black Swamp Trail is just over two miles and is a lightly trafficked route through the woods. The path boasts a lake and 440-acre farm, where visitors may spot wildlife such as red foxes, deer, and coyotes. Leashed dogs are welcome at Black Swamp Trail, which is accessible via the Burden Botanical Gardens.
Hardwood Forest Loop Trail is also just over two miles but has a bit more foot and bike traffic. Just outside of Baton Rouge, this trail boasts a lovely river, making it ideal for bird watching and nature trips year-round. Along the path, be on the lookout for the unexpected bamboo trail offshoot.
Baton Rouge City Parks
Baton Rouge City Park Amenities
Forest Community Park
Recreation center and sports fields
Splash pad
Fishing
City-Brooks Community Park
Nine-hole golf course
Baton Rouge Art Gallery
Visitors can find parks throughout Baton Rouge, and two are standouts with locals: Forest Community Park and City-Brooks Community Park.
Across 115 acres, Forest Community Park in East Baton Rouge has a recreation center and playing fields for baseball and softball. Bank fishing is available, and pups are welcome in the dog park. Kids can cool off in the splash pad after playing in the sizable playground. There are also 11 lighted tennis courts and a pro shop.
City-Brooks Community Park is 150 acres and boasts many possibilities for nature lovers, sports enthusiasts, and even art lovers. For the kids, there is a playground and self-activated splash pad. Those looking to meditate will love the Labyrinth. Bank fishing is permitted on the 50-acre lake, and dogs on leashes are welcome as well. There is a major tennis center onsite replete with a pro shop and ball machine rentals. A nine-hole golf course is open to the public, as is the admission-free Baton Rouge Art Gallery.
Swamp Adventures Around Baton Rouge
Baton Rouge Swamp Adventures Amenities
Beyond the Bayou tours
Airboat Tours
Bluebonnet Swamp Nature Center
Boardwalks
It seems Louisiana is synonymous with the idea of swamplands, and they are indeed plentiful around Baton Rouge. One of the best ways to safely see what these murky and nature-filled waters have to offer is through Baton Rouge swamp tours or a self-guided tour.
Beyond the Bayou offers guided kayak tours within the Maurepas Wildlife Management Area between New Orleans and Baton Rouge. Airboat Tours by Arthur Matherne offers personalized kayak tours and thrilling airboat tours to various bayous, marshes, and swamps in the area. These tours are popular with birders, ecologists, and photographers.
Another option is for people to take a self-guided tour by hiking through the Bluebonnet Swamp Nature Center. This 103-acre space is filled with beautiful animals and plants, and it even houses a 9,500-square-foot exhibition center. Within the halls are photos of the park's wildlife, vintage decoy carvings, art exhibits, mineral displays, and live animal exhibits.
Outside awaits a mile of gentle pathways with boardwalks that link to various wildlife and forested zones. Beyond being able to spot turtles, snakes, and a large variety of birds on the trails, it is not uncommon for visitors to spot raccoons, rabbits, opossums, armadillos, squirrels, foxes, coyotes, deer, and otters.
However one chooses to tour the swamps of Baton Rouge, it is sure to be an experience to remember.
There's Endless Outdoor Fun in Baton Rouge
Water is abundant in Baton Rouge and varies from the Mississippi River's mighty waters to smaller streams, lakes, ponds, and swamps. Waterparks await those who prefer a more tame and controlled experience. Those who love wildlife have the option to explore trails and parks amid the city, which offer a place to hike, relax, play a round of golf or tennis, have a picnic, and let kids get some energy out—dogs are often welcome too. Baton Rouge doesn't disappoint, so get outside and enjoy all the community has to offer for outdoor enthusiasts.
If you feel the pull of the outdoors in Baton Rouge, contact Brittney Pino & Associates with Baton Rouge Home Pros at (225) 444-5664 to get in contact with an agent who can help you find the ideal Baton Rouge home for enjoying all your favorite outdoor recreation.