Iconic Restaurants in Baton Rouge
Posted by Brittney Pino on Tuesday, May 11, 2021 at 11:15 AM
By Brittney Pino / May 11, 2021
Comment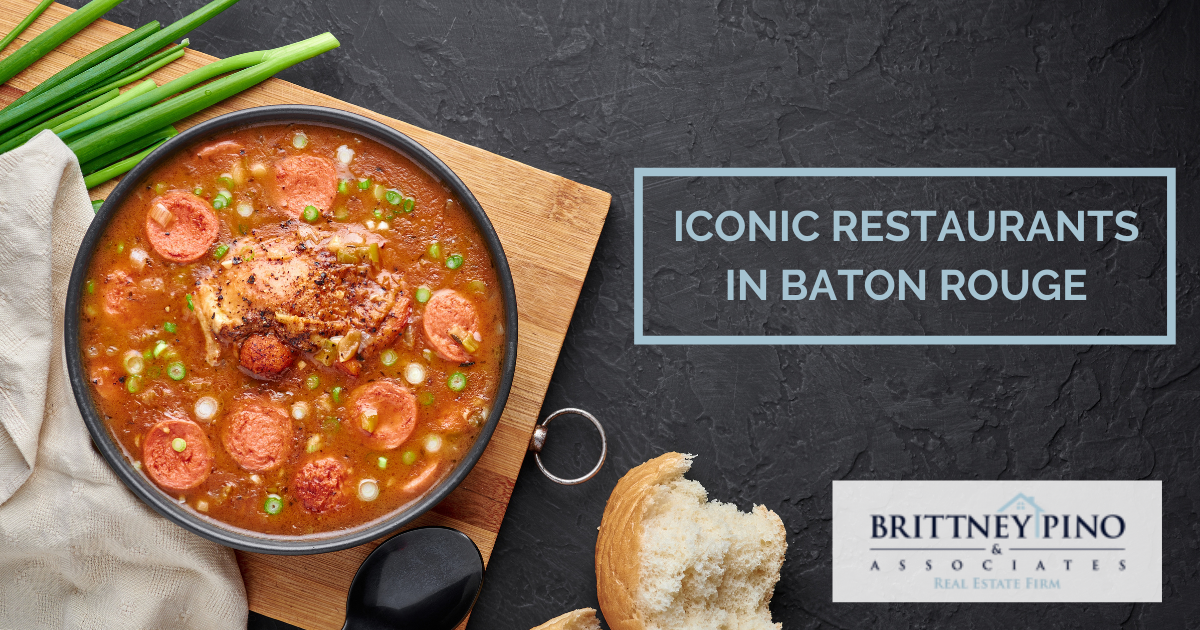 The last handful of decades has seen overall ongoing growth in the population and economy of Baton Rouge. Homes ranging from detached new construction homes to condos have risen to fill the population's needs, and opportunities for work and play have risen right along with them.
Between visitors coming to town and residents hungry for a bite, there are plenty of reasons for Baton Rouge to be home to good food. As evident from the options below, Baton Rouge does not disappoint, celebrating traditional Louisiana cuisine and its roots in ways that everyone can appreciate. Here are some of the top restaurants to visit in Baton Rouge.
Parrain's Seafood Restaurant
Popular Dishes at Parrain's Seafood Restaurant
Shrimp, Crawfish, & Crabmeat Pasta
Oyster Po'boy
Half & Half Platter
Crawfish Etouffee
First opened in 2001, Parrain's is dedicated to delivering the finest seafood to Baton Rouge, alongside traditional Cajun fare and drinks. Parrain's is open daily for lunch and dinner as well as for Sunday brunch and rocks a vibe close to what it would be like to board one of the ships that caught tonight's dinner.
Patrons love everything about the down-home menu and celebrate Parrain's as one of the best local places for truly authentic Louisiana food. You can get charbroiled oysters or alligator bites as appetizers and follow it up with a cup of seafood gumbo or etouffee. Catfish, crawfish, and tuna are among the most popular seafood entrées, with various side and salad options. Of course, the menu also features five different po'boy options: shrimp, catfish, crawfish, oyster, and gator. Guests gush about the Bloody Marys as the perfect liquid accompaniment to the food.
Parrain's Seafood Restaurant Additional Information
Hours: Sun–Thurs 11 a.m.–10 p.m., Fri–Sat 11 a.m.–11 p.m.
Acme Oyster House
Popular Dishes at Acme Oyster House
Fried Peace Maker Po'boy
Boom Boom Shrimp
Jambalaya
Fried Oyster Salad
Acme Oyster House first opened in 1910 and has since expanded to other parts of Louisiana, Alabama, Florida, and Texas. As the name suggests, Acme has a big focus on oysters, serving them up raw, chargrilled, and as shooters.
Acme Oyster House has received quite a bit of local coverage and is heavily involved with the community. It participates in the New Orleans Oyster Festival and boasts a hospitality tent at the Zurich Classic stop of the PGA Tour.
Aside from the oysters and the local engagement, there are a few menu items for which Acme is well-known. The "New Orleans Specialties" menu is an ode to the state, serving up grilled sausage alongside red beans and rice, Jambalaya, and gumbo. The 10 Napkin Roast Beef Po'boy is a "debris-style" po'boy, which provides a strong alternative to seafood.
Acme Oyster House Additional Information
Hours: Sun–Thurs 11 a.m.–8 p.m., Fri–Sat 11 a.m.–9 p.m.
Elsie's Plate & Pie
Popular Dishes at Elsie's Plate & Pie
Cajun Crawfish Queso
Blackened Catfish Sandwich
Seafood Pot Pie
Bayou BBQ Burger
Elsie's Plate & Pie was opened as an ode to Elsie Marie Campeau Rupe, beloved by her eight grandchildren and 13 great-grandchildren. Her home is fondly remembered as always being warm and inviting, and after she got married, she was always baking pies. Her grandson Paul opened a restaurant to celebrate his Ma's cooking style and her loving spirit.
Elsie's features salads, soups, sandwiches, and melts, all revolving around traditional Louisiana fare: shrimp, crawfish, oysters, and catfish. Smokey Pimento cheese is another offering on this menu, appearing in some sandwiches and melts.
But it's the pies that really take center stage at Elsie's. There are savory pies, ranging from crawfish hand pies and crustless crab pies to tomato pies and Natchitoches meat pies with beef and pork. The sweet pies include apple, triple berry, s'mores, turtle, and coconut cream.
Elsie's Plate & Pie Additional Information
Hours: Mon 11 a.m.–9 p.m., Tues–Thurs 11 a.m.–10 p.m., Fri 11 a.m.–11 p.m., Sat 10 a.m.–11 p.m., Sun 10 a.m.–9 p.m.
Poor Boy Lloyd's
Popular Dishes at Poor Boy Lloyd's
Rich Boy Po'boy
Fried pickles
Stuffed crab
Shrimp Po'boy
Don't let your eyes gloss over Poor Boy Lloyd's when you're looking for a place to eat. The menu hinges on eggs, pancakes, and omelets for breakfast, while lunch and dinner feature several po'boys, plate lunches, and salads. For drinks, Poor Boy Lloyd's serves Coca-Cola products, beer, and wine. On Friday nights, there's usually live music.
Poor Boy Lloyd's has been serving Creole, Cajun, and Southern food to downtown Baton Rouge since 1967. While the restaurant itself may not seem flashy or fancy, many people who eat here report that it's some of the best food they've ever had. Patrons love anything with shrimp that's on the menu, as well as the gumbo. The boudin balls are a must-have appetizer, while the oyster po'boy gets a lot of attention, too. Alongside all of this delicious food, everyone seems to agree that the staff could not be more welcoming and warm.
Poor Boy Lloyd's Additional Information
Hours: Mon–Wed 6 a.m.–3:30 p.m., Thurs 6 a.m.–8 p.m., Fri 6 a.m.–10 p.m., Sat 11 a.m.–10 p.m., Closed Sundays
The Chimes
Popular Dishes at The Chimes
Louisiana Alligator
Red Beans & Rice with Sausage
Catfish Perdu
Blackened Salmon Sandwich
For another take on local pride, there is The Chimes Restaurant & Tap Room. This restaurant has been doling out delicious meals to the Baton Rouge area for over 25 years and proudly boasts service to the LSU community. The Chimes is such a popular place to eat that it needed a second location, and diners can now choose between the original Chimes and The Chimes East.
The Chimes has three key goals with its dining program. The first is to provide top-quality Southern food to every patron that walks through its door in a warm and welcoming atmosphere. The second is to make everything from scratch, reinforcing the high quality of its meals and extending attention to detail through every bite. Last, The Chimes aims to have the most extensive beer and liquor selections in the area. The restaurant even runs a "Beer University" to promote awareness around the different beer styles being consumed.
The Chimes Additional Information
Hours: Daily from 11 a.m.–11 p.m.
Doe's Eat Place
Popular Dishes at Doe's Eat Place
Doe's Delta Hot Tamales
Grilled Steak Salad
2 lb Porterhouse Steak
Broiled Shrimp Alfredo
For something completely different, eat at Doe's Eat Place. This vibrant steakhouse ages each steak for a minimum of three weeks. They have porterhouses, t-bones, ribeyes, and filets to offer alongside an array of traditional sides. Seafood lovers may enjoy the shrimp and oysters that also appear on the menu. Doe's is open every weekday for lunch and every weeknight plus Saturday for dinner. Reservations are needed.
Of course, as with any Baton Rouge institution, what would Doe's be if it didn't have a locally beloved quirk? Aside from its steaks and sides, Doe's offers hot beef tamales, made the same way since 1941. These have become so popular they have even been featured on Alton Brown's specials.
Doe's Eat Place Additional Information
Hours: Mon–Thurs 11 a.m.–2 p.m., 4:30–8:30 p.m.; Fri 11 a.m.–2 p.m., 4–9 p.m.; Sat 4:30–9 p.m.; Closed Sundays
Willie's Restaurant
Popular Dishes at Willie's Restaurant
Shrimp and Crawfish Bisque
Fried Seafood Platter
Dungeness Crab Legs
Seafood Potato
For fun, vibrant dinners, drinks, and brunch, Willie's Restaurant is a colorful Baton Rouge go-to. It even offers catering for anyone that wants to bring its menu to their private event. Willie's has a classic array of appetizers, entrees, po'boys, sandwiches, burgers, and even tacos. A standout on their menu is their boiled seafood section, a nod to the Louisiana style of cooking and eating. Those touches extend throughout the entire menu, with red pepper jelly vinaigrette and remoulade dressing as options to fix up any salad they offer.
Even the drink menu at Willie's is a direct reflection of the area. Aside from beers, wines, and specialty cocktails, Willie's offers drinks-to-go, as well as several different sangrias and punches. Willie's is open every day and also has a kid's menu.
Willie's Restaurant Additional Information
Hours: Sun–Mon 11 a.m.–9 p.m., Tues–Thurs 11 a.m.–10 p.m., Fri–Sat 11 a.m.–11 p.m.
Curbside Burgers
Popular Dishes at Curbside Burgers
The Shroomin' & Jammin' Burger
The Barbie Burger 2.0
The Makai Tuna
Boozie Shakes
Curbside Burgers loudly proclaims they serve "artisan grubbery," and their menu should be viewed as their interpretation of this message. This burger joint has received extensive press coverage and acclaim, not just from local publications but also from Eater, The Food Network, and The Cooking Channel. Curbside Burgers is open every day from lunch through dinner. Aside from dining in, they also offer catering and let patrons order online for pick up.
Curbside's menu includes three classic burger styles with over a dozen different add-ons. But they don't just serve burgers: there are nine specialty sandwich and lunch offerings and a couple of different salad options. On Sundays, Curbside has a specialty brunch menu with a customize-your-own tots menu that keeps things fun and personalized. They also have a kids menu to eat their favorite meals in appropriately sized portions so their youngest patrons can eat their favorite meals.
Curbside Burgers Additional Information
Hours: Sun–Wed 11 a.m.–8 p.m., Thurs–Sat 11 a.m.–9 p.m.
Celebrate Traditional Louisiana with Baton Rouge
The two major universities, a thriving tourism industry, deep historical roots, and Baton Rouge's status as Louisiana's capital feed a steady flow of visitors, from college grads and researchers through tourists and residents. Baton Rouge's cultural scene delivers only the finest of traditional Louisiana to them all, including through its restaurant scene.
If Louisiana's iconic cuisine feeds your heart as well as your taste buds, contact Brittney Pino & Associates with Baton Rouge Home Pros at (225) 444-5664 to get in touch with a local real estate agent who can help you find your Baton Rouge dream home.