Best Water Activities in Baton Rouge
Posted by Brittney Pino on Thursday, April 8, 2021 at 3:54 PM
By Brittney Pino / April 8, 2021
Comment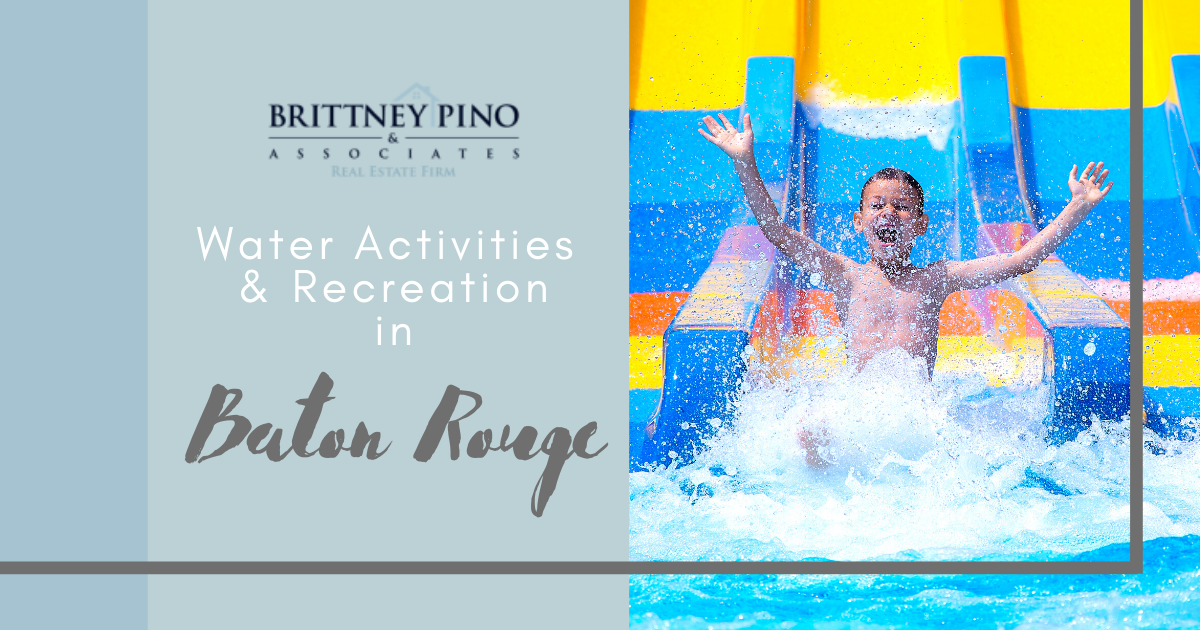 Baton Rouge, Louisiana, provides plenty of opportunities to celebrate everything from its rich and vibrant culture through its breathtaking natural scenery. So much of what Baton Rouge has to offer is a direct celebration of the history and bayou that makes Louisiana a unique state. Given its climate and waterways, it should come as no surprise that Baton Rouge excels at water recreation, with a range of things to do spanning all interests. The most popular water recreation activities in Baton Rouge are listed below.
Liberty Lagoon
Liberty Lagoon Attractions
Bowl slide
Lazy river
Flume slides
Lilly pads
Aquatic playground
Splash pad
For a relaxing, intimate water park experience in the Baton Rouge area, Liberty Lagoon is a beloved local choice, boasting several major attractions for visitors of all ages. Liberty Lagoon is open every season and only closes during inclement weather.
There is an admission fee to enter Liberty Lagoon. It costs $12 for the public, with a $2 discount for all active military and first responders; children under one year of age may enter the park for free. Additional costs may come with any locker rentals, and season passes are available for repeat fans. Restrooms are available throughout the park, along with changing rooms, tube rental options, life jackets, swim goggles, and various concessions.
The three-acre park features several water playgrounds and five significant slides, along with many lounge areas. One of the most popular features available at the Liberty Lagoon is the Shockwave, which is the only surfing simulator available in the entire state. A toddler splash park and lazy river allow for some low-key recreation and accommodate even the youngest visitors.
Paddleboarding with Muddy Water Paddle Company
Muddy Water Paddle Company Amenities
Brick and mortar equipment store
Equipment rentals
Private lessons
Group lessons
For a more authentic experience of Louisiana's landscape, the Muddy Water Paddle Company offers stand-up paddleboarding on their YOLO boards. Muddy Waters Paddle Company was founded by Baton Rouge natives who are proud to show off their hometown. Boards may be rented by the hour, starting at $25 for the first hour and costing $10 per hour; a 24-hour rental is $65. All rentals include the YOLO board, a paddle, a P.F.D. leash, and a bungee tie-down. Delivery service is available for renters in the Baton Rouge area for $25.
Paddleboarding parties are also an option facilitated by Muddy Water. An instructor and three YOLO boards for three hours of paddleboarding are $285, and each additional instructor or five boards total will add $75 to the cost. The company even throws in a lei for each guest as a bonus.
Lessons are also available for various group sizes. One to two people may enjoy paddleboarding lessons with an instructor for $45 per person, while groups of three people or more get a discount of $35 per person.
Fishing Around Baton Rouge
Fishing Locations in Baton Rouge
Burbank Park Lake
Doyle's Bayou
Hooper Road Park Lake
Blackwater Conservation Area
Flanacher Road Park Lake
To fish in Baton Rouge, anyone aged 16 and up must have a basic Louisiana fishing license. Additionally, they must adhere to Louisiana fishing regulations while partaking in the activity. Once familiar with these regulations and in possession of this license, individuals may fish in designated public ponds. The Louisiana Department of Wildlife and Fisheries (LDWF) stocks public ponds with rainbow trout during the winter.
There are 18 public fishing spots in the greater Baton Rouge area, distributed between Ascension, East Baton Rouge, Livingston, and Tangipahoa. Each site is open seven days a week for as long as the sun is out. People fishing at some of these spots may only do so from their banks, so anglers must check the rules before they begin their fishing activities. The most commonly encountered fish at these spots include bluegill, largemouth bass, and channel catfish.
Fishing regulations in Louisiana set different rules for freshwater versus saltwater activity, so anglers must adhere to the appropriate rules. They must also pay for any licenses and any associated fees. Residents and non-residents each pay different amounts and have different fishing terms available.
Kayaking at Highland Road Community Park
Other Places to Go Kayaking Near Baton Rouge
University Lake
BREC Greenwood Community Park
Ward Creek
Blackwater Conservation Area
Blind River
Lake Pontchartrain
Highland Road Community Park is known for having increased recreational opportunities and maintained grounds. Visitors can find paddling access centers around the Bayou Fountain and the Bayou Manchac. The latter was a key waterway for Baton Rouge, as it linked the city to Lake Pontchartrain; many ships would pass via the Amite River. As ships became larger, this waterway was no longer sufficient. The construction of levees on the Mississippi River dried out some parts of the Bayou Manchac, rendering it even shallower.
Although still celebrated for its beauty, the Bayou Manchac currently functions as a home for wildlife and a recreation center, offering its visitors activities such as kayaking. A partnership between BREC (Recreation and Park Commission for the Parish of East Baton Rouge) and Paddle BR worked to construct a boat launch, so people can bring their canoe or kayak into the bayou and enjoy the waterway.
Blue Bayou Water Park
Blue Bayou Attractions
Lafitte's Plunge
The Racer
Hurricane Bay
Awesome Twosome
Pirate's Cove
High Water
Mad Moccasin
Mambo
Thrill-seekers can revel in a second major amusement park in the Baton Rouge area: Blue Bayou, which is attached to leading amusement park Dixie Landin'. Blue Bayou has over 20 different aquatic attractions. Its rides include everything from a lazy river through various slides, and The VooDoo is known as the world's largest dark vortex or "behemoth bowl" type of slide. The Azuka is lauded as the biggest tornado slide globally and features round tube rafts that drop from a tunnel into a funnel, rapidly moving back and forth until they launch into a splash pool.
The slides at Blue Bayou create all kinds of adrenaline-pumping conditions for their riders, from being completely enclosed in the dark through dropping down over 90 feet into pools where the waves are several feet high.
General admission to Blue Bayou is $42.50, although children under four feet in height and seniors over 60 enjoy a discounted price of $35.50. Children under 35 inches in height can enter the park for free.
Explore Water Recreation in Baton Rouge Today
With water parks, kayaking, fishing, and paddleboarding to experience, there are many ways to enjoy water recreation in the great outdoors of Baton Rouge—or even in one's swimming pool home or condo complex. Louisiana's capital city offers public community parks, recreational instructors, and monitored facilities to ensure the safety of all recreational pursuits. Baton Rouge continues to preserve its legacy down through its waterways and celebrate gatherings and having fun. As more people continue to move to Baton Rouge, the range of outdoor recreational opportunities will likely only continue to grow.
If gliding through the water in Baton Rouge sounds like the perfect way to spend a day, contact Brittney Pino & Associates with Baton Rouge Home Pros at (225) 444-5664 and we'll help you discover the perfect Baton Rouge home base to launch your water adventures.