East Baton Rouge Parish Guide: Baton Rouge, LA Neighborhoods and Parish Guide
Posted by Brittney Pino on Monday, February 8, 2021 at 9:13 AM
By Brittney Pino / February 8, 2021
Comment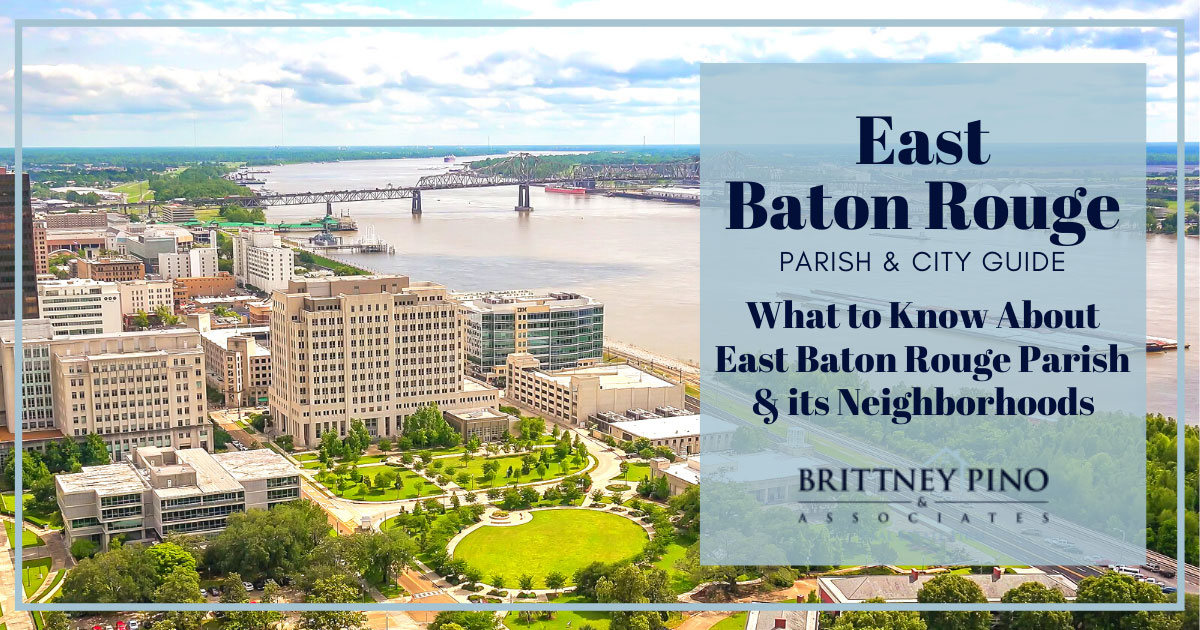 East Baton Rouge Parish, as its name would imply, is located inside the Baton Rouge, Louisiana, statistical area. It is the most populous parish in the state, with about 438,060 residents. The current population is down about 2,000 people from the 2010 census.
Baton Rouge is the parish seat as well as the state capitol. The parish has a total area of about 470 square miles, with all but about 3 percent of it land. The City of Baton Rouge shares a consolidated government with the parish, a partnership that has been in place since 1947. The parish is home to about 18 communities. Here's a guide to the communities in East Baton Rouge parish.
Communities in East Baton Rouge Parish
East Baton Rouge Parish is home to four cities—Baton Rouge, Baker, Zachary, and Central— as well as 10 census-designated places and four unincorporated communities.
Baton Rouge serves as the parish seat and has a population of about 734,000. It covers about 88.65 square miles. Meanwhile, Baker is found north of the center of East Baton Rouge Parish and south of Zachary. It has a total area of about 8.3 square miles.
Zachary is a city found in northern East Baton Rouge Parish. It covers about 24 square miles. Central is a city set in the east-central part of East Baton Rouge Parish. It covers about 62.5 square miles.
Among the census-designated places in East Baton Rouge Parish, some of the more prominent communities include Gardere, Shenandoah, and Village St. George. Gardere can be found in the southern part of the parish. This small community has a total area of just 3.4 square miles, with all of it land. Meanwhile, Shenandoah is in southeastern East Baton Rouge Parish. The community has a total area of about 6.3 square miles. Village St. George is in the southern portion of East Baton Rouge and has a total area of just 2.2 square miles.
Baton Rouge
Baton Rouge Zip Codes
70801
70802
70805
70806
70807
70808
70809
70810
70811
70812
70814
70815
70816
70817
70818
70819
70820
70825
70827
70836
Louisiana's capitol city, Baton Rouge is located on the eastern bank of the Mississippi River. The city is Louisiana's second largest, trailing only New Orleans. Baton Rouge is the centerpiece of the Greater Baton Rouge metro area, which has a total population of about 834,159 people.
The city's location on a natural bluff upriver from the Gulf of Mexico and the Mississippi River Delta contributed to the community's development, as it was kept safe from seasonal flooding. The city is a major port, the 10th largest in the U.S. in terms of tonnage shipped. It has grown to be a prominent petrochemical, medical, research, and industrial hub. Baton Rouge is also a college town, with Southern University, Louisiana State University, Franciscan Missionaries of our Lady University, and Baton Rouge Community College all located there.
In addition to the city's strong economy, residents are drawn to Baton Rouge as a culturally rich community. It has a growing visual arts scene, as well as several designated arts districts. The city is also home to an extensive park system and the Baton Rouge Zoo.
Baton Rouge Neighborhoods
Baton Rouge is home to many historic neighborhoods, many dating back as far as the early part of the 19th century. Old South Baton Rouge is the target of the city's most expansive revitalization project. Beauregard Town is a historic district adjacent to downtown, with many renovated homes now serving as law offices.
Not all Baton Rouge neighborhoods are historic, of course, and in addition to later established neighborhoods, like Broadmoor and Sherwood Forest, the city has newer subdivisions, like University Club. Baton Rouge's neighborhoods offer a variety of amenities to residents, from parks and walking trails, to proximity to shopping, restaurants, and downtown.
List of Baton Rouge Neighborhoods
Downtown
Spanish Town
Garden District
Old South Baton Rouge
LSU/Lakeshore
Mid-City
Inniswold
Goodwood
Hundred Oaks Addition
Westminster
Oak Hills Place
Shenandoah
Glen Oaks
University Club
Baker
Baker is the smallest incorporated city in the East Baton Rouge Parish, with a population of just 13,026.
It is bordered by the City of Zachary to the north and by Baton Rouge to the south. It is only about 11 miles from downtown Baton Rouge. The city was named in 1888 after an early settler in the area. It is home to the 926th mobility augmentation company, part of the 769th Engineer Battalion headquartered in Baton Rouge.
Baker holds a number of events throughout the year, including an annual Christmas parade. The city is known locally for its annual Baker Buffalo Festival, held the last full weekend every September. The festival was launched in 1993 as a fundraiser for local schools. It includes a festival, pageant, car show, and parade.
There are over 10 neighborhood parks in Baker. They offer residents a range of activities and features, including tennis courts, playgrounds, baseball diamonds, picnic areas, and more. Among the parks is Baker City Park, located near City Hall. It provides a short, soft-surface walking trail, along with a large playground, outdoor exercise equipment, and shaded picnic areas.
Baker Neighborhoods
Although a small city, Baker residents enjoy plenty of community amenities, including parks, athletic fields, and walking trails. There are also community events and festivals. Among the city's subdivisions is Baker Estates, located on the northern side of the city, off of State Highway 19. The neighborhood is known for its modest ranch homes.
Parkwood Terrace is a Baker community developed primarily in the 1970s. It is known for its single-family dwellings, primarily its larger ranch homes. It is within easy walking distance of a number of parks, including Tristan Park, Jefferson Park, and Baker Park. It also offers easy access to shopping and downtown Baker.
List of Baker Neighborhoods
Baker Estates
Baker Hills
Parkwood Terrace
Wyatt
Zachary
The city of Zachary lies about 16 miles north of Baton Rouge, bordered by Baker to the south, Central to the east, and Slaughter to the north. It has a population of about 18,278 residents.
Zachary lies on land that was primarily part of a farm owned by Darel Zachary. He sold the land in the 1880s to the Illinois Central Railroad. The railroad built a depot in what would eventually become the city of Zachary, named after the farmer who originally owned the land. The city was incorporated in 1889, but a fire destroyed much of it in 1903. Zachary's historic village at the city center consists of the surviving buildings or those built soon after.
Residents have convenient access to a number of outdoor activities, including festivals, events, youth activities, and more. Zachary's downtown holds Downtown Live with the Gazebo Series of Concerts. The community also holds the Annual Maypole Festival, Christmas in the Village, Fall Art Crawl, Annual Christmas Parade, and Chili Cookoff. The city operates 13 parks as well, with facilities for baseball, walking trails, picnic spots and more.
Zachary Neighborhoods
Zachary is home to several distinct neighborhoods. Americana is a new, traditional neighborhood development. It is located in the heart of the city, not far from downtown. Americana offers plenty of amenities, including porches and its tree-lined streets. Residents have access to a dog park, children's playground, YMCA, and restaurants.
Beaver Creek is a residential and golf community, located about 20 minutes north of downtown Baton Rouge. Copper Mill is another new subdivision. It offers residents access to a number of amenities and is located about 15 minutes away from Baton Rouge.
List of Zachary Neighborhoods
Beaver Creek
Clairmont
Pointe South
Redwood Lake
Central
Central is the second-largest city in the East Baton Rouge Parish, with a population of about 29,172. It was incorporated as a city in 2005, making it one of the state's newest cities. It was long an unincorporated suburb of Baton Rouge. It is located in the east-central part of the parish, between the Comite and the Amite rivers, which converge at the south end of the city.
Central is home to a number of events and festivals, including the city's Halloween event. It also has a number of new neighborhood developments, each offering its own set of amenities, including parks, community centers, and athletic fields.
Some of Central's parks include Comite River Park, Jackson Community Park, Palomino Drive Park, Lovett Road Park, Kolby Park, Greenwell Springs Park, and Central Sports Park. Residents also have convenient shopping within Central, including a grocery store and shopping mall, as well as easy access to all the amenities of nearby Baton Rouge.
Central also has many eateries, particularly in its downtown district.
Central Neighborhoods
Central has a number of distinct neighborhoods, including several new developments. Among them are Central Square, a mixed-use development patterned after a town square model. It includes retail, garden homes, and townhomes. The Village at Magnolia Square aspires to be a traditional community. It features amenities such as dining, a spa, pool, pavilion, and walking paths, along with plenty of greenspace.
Another new development in Central is the Settlement on Shoe Creek, a 150-acre traditional development, located on Sullivan/Central Thruway near the intersection of Wax Road. When finished, it is expected to feature a mix of 479 residential single-family homes, 250 apartments, 100 assisted living units, more than 150,000 square feet of commercial space, and several parks for residents to enjoy.
List of Central Neighborhoods
Arbor Grove
Bellingrath Lakes
Central Square
Cypress Lakes
Proche on Denham
Twin Lakes Estates
Village Lakes
Gardere
Known also as Riverland, Gardere is a census-designated place and an unincorporated area within the southern region of East Baton Rouge. It has a population of about 10,841 people.
Gardere is bordered to the west and northeast by Baton Rouge, State Highway 30 to the southwest, and State Highway 42 to the northeast side. It is about eight miles from downtown Baton Rouge.
The Recreation and Park Commission for the Parish of East Baton Rouge (BREC) operates the 58-acre Burbank Conservation Area in the Gardere community. It also maintains the Harley/Vey Park, which features a multi-purpose ball field and a soccer field.
Adjacent to the conservation area is the Traction Sports Complex. Since merging with Cypress Mounts, the Traction Sports Complex offers a total of 45 acres of sport fields and facilities, including baseball and slow-pitch softball fields, a 20,000-square-foot performance center, an indoor batting cage, 80-yard outdoor running track, massage therapy room, player's lounge, and more.
Residents have access to shopping within the community, as well as a number of dining options, but also enjoy easy access to retail and commercial districts of Baton Rouge.
Gardere Neighborhoods
Hunter's Trace is a new subdivision in the Gardere community. It is known for its shaded streets featuring oak, red maple, river birch, and magnolia. The neighborhood features carriage-style lanterns lining the streets, as well as a pond and wildlife.
Bluebonnet Highlands is located on the southern edge of the Gardere community. It is a master-planned community comprised of the Springlake and Fairhill neighborhood. The community features socked lakes, a recreation center, swimming pool, athletic courts and fields, a children's playground, and clubhouse.
List of Gardere Neighborhoods
Autumn Run
Hunter's Trace
Springlake
Fairhill
Shenandoah
Shenandoah is an unincorporated area and census-designated place located on the southeast side of the East Baton Rouge Parish. It is home to about 20,192 residents. Shenandoah is within the boundaries of St. George.
Shenandoah is found within the southeast area of the East Baton Rouge Parish. It is bordered on the west by Baton Rouge and on its south perimeter by the community of Old Jefferson. State Highway 73 is adjacent to the southwest corner of the community and provides easy access to downtown Baton Rouge, about 11 miles away.
The community features Antioch Boulevard Park, with ball fields, basketball courts, a soccer field, tennis courts, playground, and recreation center. The smaller Cedar Ridge Avenue Park is on the western edge of the neighborhood. It includes a ball field, basketball court, playground, and recreation center.
Shenandoah is primarily a community of residential subdivisions, but there are restaurants and shopping options around its perimeter. The community includes neighborhood schools.
Shenandoah Neighborhoods
Located adjacent to the western edge of Shenandoah, the Woodlawn Estates neighborhood offers its residents easy access from Jones Creek Road, Coursey Boulevard, or Tiger Bend Road. The neighborhood is also just a short drive to Airline Highway and Interstate Highway 12, offering a number of options when it comes to seeking out restaurants or retail outlets.
The Shenandoah Estates neighborhood is located in the areas between George Oneal and Tiger Bend Road. It is bordered by Jones Creek Road. The neighborhood is known to have a very active homeowners' association.
List of Shenandoah Neighborhoods
Shenandoah Estates
Shenandoah Park
White Oak Estates and Garden
The Woods
The Lake at White Oak
Briar Place
St. George
St. George is located in the southern portion of East Baton Rouge Parish. About 7,104 residents live in the village, which is officially known as a census-designated place. It is about 10 miles southeast of downtown Baton Rouge. Oak Hills Place lies along its western border. St. George covers approximately 2.2 square miles, and there are no bodies of water within the village's boundaries.
Highland Road Community Park lies primarily within St. George. The 144-acre park is known for its many recreational features as well as is scenic beauty. The park features a recreation center, including an indoor gymnasium and three event rooms, with the latter available for rental. Additionally, the park features a splash pad and pavilion. The pavilion is available for residents to rent and holds about 65 people.
Another popular feature residents enjoy at the park is its boat launch, which provides paddling access to Bayou Fountain and eventually, Bayou Manchac. It is one of the few boat launches in the area. Other features of the park include baseball fields, disc golf, rugby field, a tennis center, and an observatory.
In addition to Highland Road Community Park, the Brec Meadow Park and Gentily Court Park are located in St. George.
St. George Neighborhoods
Most of St. George's retail outlets are located in the northern part of the village. Neighborhoods lying closest to Highland Road Community Park are The Highlands and the Westchester neighborhood.
Quail Hollow and Quail Ridge are adjacent neighborhoods on the western portion of St. George.
List of St. George Neighborhoods
Perkins South
The Highlands
Perkins Village
The Shire
Quail Hollow
Quail Ridge
Westchester
Discover East Baton Rouge's Communities
East Baton Rouge Parish is located within the Baton Rouge, Louisiana, metropolitan statistical area. As the state's most populous parish, it spans the boundaries of many communities of varying sizes. It includes the city of Baton Rouge as well as many smaller communities.
While the parish itself is dotted with small lakes and ponds, its most dominant body of water is the Mississippi River, which lies adjacent to its western border. Those interested in moving to Baton Rouge should explore the city's communities in advance, as well as the many fun things to do in the area.
If you're looking to make your home in East Baton Rouge Parish, contact Brittney Pino & Associates with Baton Rouge Home Pros at (225) 444-5664 to talk to a real estate agent who knows the area well and can help you find your ideal home.