Most Affordable Neighborhoods in Baton Rouge
Posted by Brittney Pino on Monday, March 29, 2021 at 9:50 AM
By Brittney Pino / March 29, 2021
Comment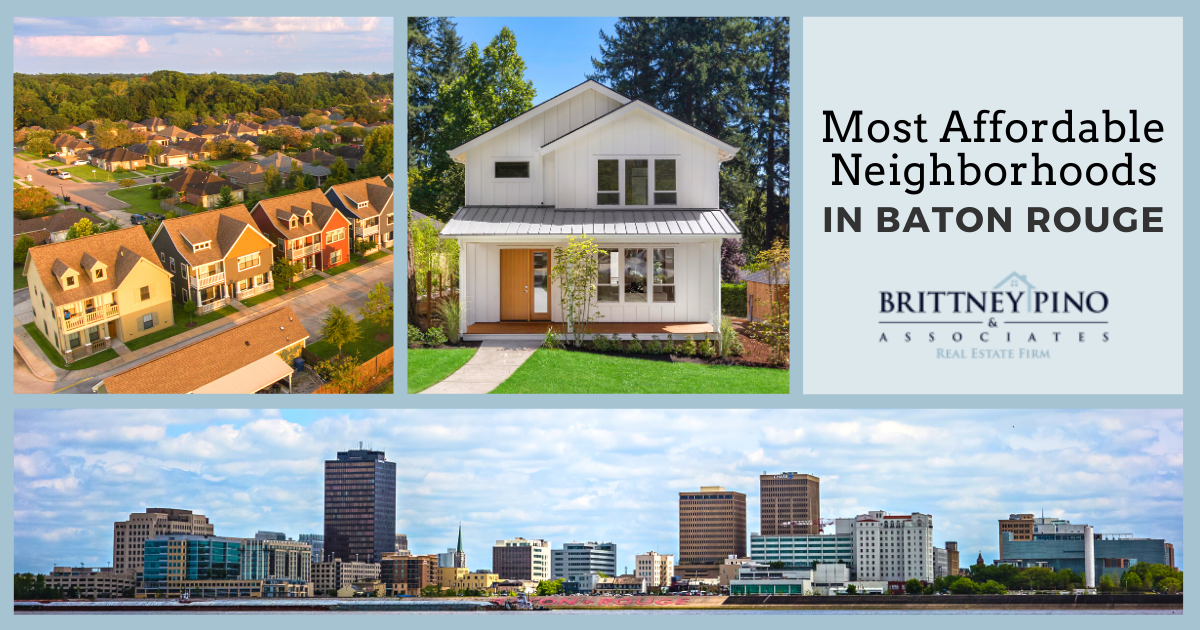 Determining where to settle down is difficult for many people, especially in large cities with many neighborhoods to consider. People should ensure their investment is in an area that is enjoyable and financially sustainable long term. With this information in mind, here are several affordable neighborhoods, their amenities, and what to expect from each in Baton Rouge, Louisiana.
Cypress Lakes Estates
Cypress Lakes Estates is a Baton Rouge neighborhood that provides a convenient commute to both Baton Rouge proper and Central. People in the area have access to the Central Community School System, a nearby playground, and a fishing pier. Cypress Lakes Estates also offers walking trails, a picnic pavilion, and stunning views.
Despite its convenient proximity to Louisiana State University (LSU) and downtown Baton Rouge, the neighborhood is slow-paced. New construction homes in Cypress Lakes Estates begin at approximately $315,000. There are various floor plans to choose from, including one- and two-story options, open kitchens, and spacious garages. Neighborhood lots are attractive and require little maintenance, giving residents more free time to enjoy where they live. Residents also enjoy easy access to nearby amenities in the Siegen Plaza shopping center.
Lake at White Oak
Lake at White Oak is a beautifully affordable subdivision in the southeast part of Baton Rouge, established in 1985. The neighborhood borders the Amite River and boasts just over 500 houses tucked into the outskirts of Louisiana's capital. The majority of homes in the community are valued at between $250,000 and just under $500,000, are one-story, and have three to four bedrooms and two or more bathrooms. Most of them boast over 2,000 square feet of living space and unique features like backyard terraces, fountains, and gardens.
Lake at White Oak is considered covenant controlled, meaning that residents must adhere to community-wide restrictions and guidelines to create a unique outdoor park-like atmosphere. The area is governed by The Lake at White Oak Architectural Control Committee and The Lake at White Oak Homeowners Association, which hold monthly gatherings and occasional community socials and things to do for residents.
Jamestown Square
Jamestown Square features a courtyard-like design built by Alvarez Construction and is located close to shopping, dining, and community activities. The community is currently home to just over 50 homes and several green, park-like spaces where residents can enjoy the nearby outdoors.
Jamestown Square is just five minutes by car from the Blue Bayou Water Park and only a handful of miles from Louisiana's Country Club. Schools in the area include Cypress Heights Academy, Riverdale Christian Academy, Victory Academy, Community Christian Academy, and the St. Alphonsus Liguori School.
Most homes have three or more bedrooms, two or more bathrooms, and over 2,000 square feet of livable space. Unique accents include wrought iron, finished architectural brick, custom cabinets, hardwood floors, and oversized ceramic tiling. Houses in Jamestown Square sell for approximately $250,000 to $300,000.
Tara
The Tara subdivision is a quaint community that features affordable housing. Although the neighborhood sits in a developed area of Baton Rouge, the community strives to maintain a natural, residential atmosphere. New commercial development is limited, offering residents a traditionally quiet suburban lifestyle.
The Tara Civic Association helps promote an enjoyable quality of life by maintaining the landscaping and sidewalks in the area, ensuring neighborhood entrances are attractive and seasonally decorated. They also host community events and social activities.
Residents enjoy access to a private Racquet and Swim Club, which offers swim lessons with SELA Aquatics. They can also rent the pool for parties. Lifeguards are on duty for public and private swims.
Kenilworth
Kenilworth is located close to Louisiana State University (LSU), between Perkins and Highland roads. The community was established in the 1970s.
Kenilworth is well-known for its yearly Independence Day Parade, which marked its 47th celebration in 2019. The Kenilworth Civic Association holds an annual Food Fest and a neighborhood meeting.
Undeveloped lots in the neighborhood sell for around $150,000 or less, while established homes are priced around $300,000. Most homes offer multiple bedrooms and bathrooms, plenty of square footage, and beautifully landscaped yards. Kenilworth is walkable and conveniently located to many of Baton Rouge's best amenities.
Fairhill at Blue Bonnet Highlands
Fairhill at Blue Bonnet Islands is a master-planned neighborhood situated along southern Baton Rouge. Stunningly beautiful yet affordable homes line Bluebonnet Blvd., in between Nicholson and Burbank drives. The first home in the neighborhood was erected in 1995, and the community has continued to grow since.
Residents enjoy the numerous amenities this community offers, including a playground, tennis court, basketball court, athletic field, and a swimming pool in a dedicated Recreational Complex. There are also stocked lakes for fishing and a clubhouse that residents can rent for private parties.
Homes in the neighborhood typically have between three and five bedrooms with three or more baths, with some houses boasting living space over 3,000 square feet. The average cost of a house in Fairhill at Blue Bonnet Islands is around $280,000.
Affordable Communities for Baton Rouge Residents
The above neighborhoods are some of the most affordable in Baton Rouge for current residents or those planning to move to the area. Investment in any one of these neighborhoods is a great choice. Potential residents have many property options to choose from in this city, from townhouses and condos to luxury homes. If you're scouring the market for affordable homes in Baton Rouge, contact Brittney Pino & Associates with Baton Rouge Home Pros at (225) 444-5664 and we'll help you narrow your search for homes that fit both your wishlist and your budget.