Most Expensive Neighborhoods in Baton Rouge
Posted by Brittney Pino on Monday, October 12, 2020 at 9:32 AM
By Brittney Pino / October 12, 2020
Comment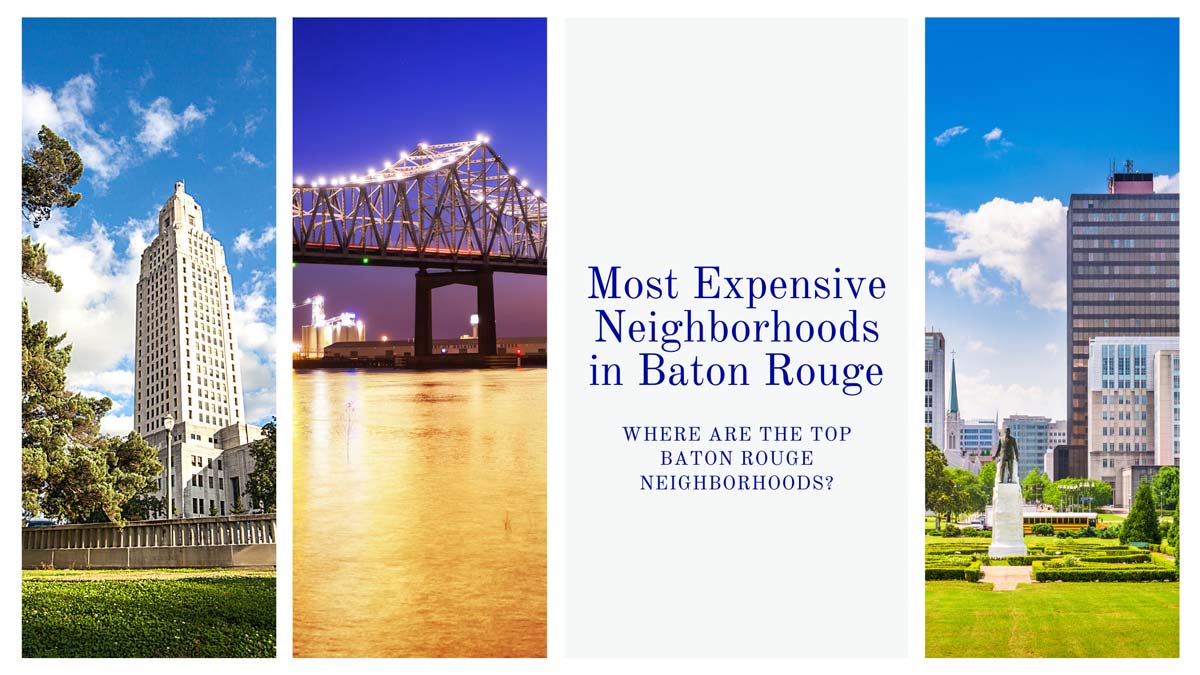 Baton Rouge is known for its French influence, exceptional cuisine, and Louisiana State University. With the number of entertainment options available, there is something for everyone in Baton Rouge. In addition to all the wonderful reasons to move to Baton Rouge, the city features exceptional historical and luxury neighborhoods that perfectly capture old-world charm; it can feel like you are taking a walk through history in some parts of the city. With that said, the following areas offer luxury homes in Baton Rouge, LA, and are considered some of the most high-end Baton Rouge neighborhoods.
Adelia at Old Goodwood
Adelia at Old Goodwood Amenities
47 lots
Luxurious Residential Development
Towering Live Oak Trees
Historic Property
Goodwood Plantation
Adelia at Old Goodwood is built on 17 acres and features 47 lots. This private luxury neighborhood in Baton Rouge features homes inspired by those in surrounding historic neighborhoods that were constructed between 1940 and 1969. The median home price in Adelia at Old Goodwood is $407,000 with an average listing of $290–$300 per square foot. Most homes feature four to five bedrooms with at least two bathrooms. The number of acres ranges from 0.08 to 0.20, depending on the size of the lot.
The private entrance ensures only homeowners and guests can enter the neighborhood. Due to its central location, homeowners can expect a short commute of under 30 minutes one way. The neighborhood is close to major roads such as I-10, I-12, and U.S. 42. Homeowners are only minutes away from some of the best dining and entertainment Baton Rouge has to offer.
Adelia at Old Goodwood Hotspots
Country Club of Louisiana
Country Club of Louisiana Amenities
18 hole Golf Course
Green Clay Tennis Courts
Olympic Size Pool
Private Member Only Club
Unique Events Venue
Country Club of Louisiana is a luxury golf community that offers golf course homes in Baton Rouge. The golf course itself and the homes were designed by Jack Nicklaus in the mid-1980s, and each home includes four to five bedrooms with at least three bathrooms. This large community features over 700 homes that must follow HOA guidelines to ensure each home is perfectly manicured and maintains the established look the Country Club of Louisiana strives to maintain.
The Country Club of Louisiana's median home value is $867,000 with an average listing of $224 per square foot. Some homes are listed at $1,000,000. While many of the residents at the Country Club of Louisiana are retired, most residents who work only have a small commute of 15 to 20 minutes. With easy access to I-10 and U.S. 42, Country Club of Louisiana residents can quickly access their favorite shops and restaurants in downtown Baton Rouge.
Country Club of Louisiana Hotspots
Valhalla
Valhalla Amenities
20 homes averaging 0.5 acres each
Live Oak Trees
Gated Entry Way
Luxurious Residential Properties
Serenity of a private lake
Charm of Highland Road
Valhalla is one of the newest subdivisions developed in Baton Rouge. This 17-acre private neighborhood features 20 custom-built homes. Each home has nearly a one-half-acre lot and features four to five bedrooms. On average, homes are over 4,000 square feet. While lots in this new subdivision once began at $350,000, the median listing price is now over $1,500,000.
Valhalla is located in South Baton Rouge near I-10 and U.S. 42, which puts homeowners less than 15 minutes from countless dining, entertainment, and shopping. Although close to downtown, Valhalla offers a rural feel. This subdivision is filled with large oak trees and features a lake with a fountain.
Pond On Harts Mill
Pond On Harts Mill Amenities
Luxurious Residential Properties
Gated Community
Near LSU
27 homes in 16 acre neighborhood
All homes minimum of 3000 sq. Ft.
All roads are privately maintained by residents
Pond On Harts Mill is a small luxury community tucked away near Louisiana State University. As one of the few gated communities of Highland road, this neighborhood privately maintains its own roads and entrance. Built on only 16 acres, the Pond On Harts Mill features just 27 homes, each with a minimum of 3,000 feet and at least four bedrooms. The median home price is $737,000 with an average listing of $245 per square foot.
With proximity to LSU, homeowners living in this Baton Rouge gated home community can easily access dining and entertainment. Shopping is only minutes away, and daily commute times are often under 30 minutes or less.
Pond On Harts Mill Hotspots
When it comes to luxury areas, these most expensive neighborhoods in Baton Rouge certainly deliver. From the well-manicured entrances and modern updates, the designers of these neighborhoods examined all the details. Additionally, if you buy a home in one of these Baton Rouge luxury communities, the HOAs ensure these communities blend their old-world charm with modern conveniences in this fun and interesting city.
If you've got your eye on one of these luxury neighborhoods, contact Brittney Pino & Associates with Baton Rouge Home Pros at (225) 444-5664 to talk to a local real estate agent who can help you find a home in your perfect Baton Rouge neighborhood.